Call (714) 838-2255 or (949) 474-4070 for your instant estimate.
We have cleaning teams in your area Mon. – Sat.
Call (714) 838-2255 or (949) 474-4070 for your instant estimate.
We have cleaning teams in your area Mon. – Sat.
We are the most referred house cleaning service in Orange County, CA.
There are many options for maid services and house cleaning, but there is only one Orange County house cleaning service that stands out as the best. When you hire The Maids, you can expect the healthiest, most thorough professional house cleaning available.
We pride ourselves on going above and beyond what other Orange County house cleaning services offer to provide you with a home that sparkles and shines from ceiling to floor, bathroom to kitchen!
Call us today to find out why we are the most referred home cleaning service in Orange County!
The Maids do a fantastic job of cleaning my place!  They are in and out in an hour, and their crew is extremely detail oriented and thorough!!  The blinds, the baseboards, the doors, the windows…everything is tirelessly cleaned and disinfected!  I will recommend The Maids to anyone that needs a cleaning service for regular housecleaning, event preparation, or post event cleaning.  They are easy to work with and Jerry is great!!
Randy H
I called The Maids because I was interested in getting my house deep cleaned once a month.  I am great at keeping my home tidy, but I am also very busy with work and school and often do not have the time to really scrub and deep clean my house.  The Maids are great for this.
They came out for the first visit to clean my house and see if I liked the service.  I instantly feel in LOVE.  My place was spotless and sparkling!  I decided to go with the monthly service, and I am very happy 🙂
I also have two cats that are not allowed outside and The Maids have been great at dealing with my over protective cat-mom-ness.
I recommend them to anyone who wants there placed cleaned.
Jesse G
The Maids are great!  My husband suprised me with a cleaning when we came back from vacation and they did a wonderful job!  They were very thorough in the cleaning of our home.  My friend had let them in since we were gone and said they were all super nice too!  We are considering having them come on a semi-regular basis since their rates are very reasonable for the services provided.  Highly reccommend!  =)
Alison L.
The team is always smiling, happy and professional and are always willing to go the extra mile to make me say WOW every time they have been at my house. They do a lot of little extra things that other cleaning services I've used do not do like de-germ phone receivers and light switches and they literally remove every spec of dust from the ceiling down the walls (yes, curtains too!) and clean the kitchen and bathroom floors on hands and knees for a thorough job. I've been using them for a year and will continue- worth every penny!!!
Deena G
These guys should change their service to home detailing, not home cleaning. They even got cobwebs off the 15 foot ceilings in my living room and dirty fingerprints off my son's wall. And I like that they are a real company with insured and bonded employees that speak english and are in uniform in my home. I highly recommend this company.
Jamie J
They were expedient and provided EXCELLENT cleaning services.
Jerry called the day after to follow up. Such detail to perfecting their customer service is how ALL businesses should be managed. I highly commend their services and recommend them to ALL.
Judy M
Have been using The Maids of Tustin for several months now. They come every other week and do a FANTASTIC job. We are very very happy!
Sherwood C.
Extremely professional company.  The Maids have been cleaning our house for several years and always do a fantastic job.  Every area of the house is properly cleaned and no chemical smells.  The team approach is very effective and they stay busy and on task the entire visit.  Communication is great and they are always flexible to our needs. Highly recommend The Maids!
Matt L.
The Maids is the leading professional house cleaning service because we use: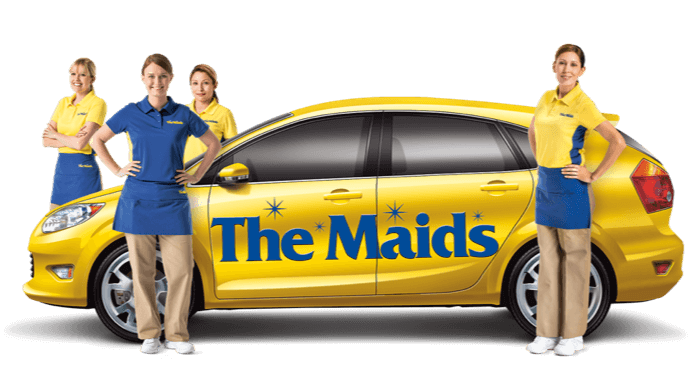 Meet your Four Person Cleaning Team